Hunstanton Attractions
Look here for attractions in Hunstanton and surrounding Norfolk - sea life centre, theatre, sea tours, fun fair, leisure centre, bowling, golf, nature reserves and much more!
Hunstanton Top Ten Places to See
Hunstanton does not always live up to its local nickname - "Sunny Hunny". So on days when it is too cold or rainy to laze on one of the wide sandy beaches, here are ten interesting places to visit, and they are all an easy stroll from the town centre.
The Best Things in Life
Most Sunday afternoons in the holiday season you can listen to music on Hunstanton Green at the bandstand for no charge. On a sunny day this can be combined with a spot of sunbathing or a walk along the prom. Perhaps the best things in life are free after all!
Hunstanton for a Classic Holiday by the Sea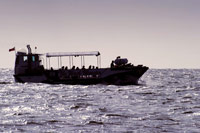 What are the ingredients of a classic holiday by the sea? How about a lighthouse perched on candy-striped cliffs with rock pools and a shipwreck for the kids to explore on the beach? Welcome to Hunstanton in Norfolk!

Hunstanton contains an interesting blend of the jolly things you expect in any seaside resort together with stately Victorian buildings in the quiet residential area containing a good selection of guest houses. And it is all surrounded by the beautiful Norfolk countryside.
Hunstanton Holiday Cottages
Holiday cottages and other types of holiday rentals in Hunstanton or Old Hunstanton, close to a sandy beach and near good shopping facilities in the town centre. Special offers and late deals shown with availability information. For more information or to book, click the button or phone the number where given.