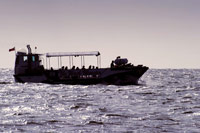 What are the ingredients of a classic holiday by the sea? How about a lighthouse perched on candy-striped cliffs with rock pools and a shipwreck for the kids to explore on the beach? Welcome to Hunstanton in Norfolk!

Hunstanton contains an interesting blend of the jolly things you expect in any seaside resort together with stately Victorian buildings in the quiet residential area containing a good selection of guest houses. And it is all surrounded by the beautiful Norfolk countryside.
Seafront
The splendid seafront has a promenade, funfair, bowls, pitch-and-putt, Sea Life Sanctuary and the award-winning Esplanade Gardens. Along the seafront at Hunstanton are stalls selling candyfloss, doughnuts, seaside rock, ice creams, buckets & spades, and all the things needed for relaxing on the beach. Music drifts from the bandstand on the green on Sunday afternoons in summer, serenading sunbathers and passers-by. You can also go for a donkey ride, take a trip around Hunstanton on the land train, or take a sea tour on a World War II amphibious craft.
History
Less than two hundred years ago the area occupied today by the Promenade and Esplanade Gardens consisted of no more than cliff-top fields, with a few grazing sheep in place of the throngs of holidaymakers seen there today. During this era the Victorians invented the idea of the bathing resort, convinced that bracing sea breezes and chilly waters were a healthy tonic. So, the Lord of the Manor in the area today known as Old Hunstanton envisioned a purpose-built resort on his land, and started it by building a hotel (the Golden Lion) in 1846. When the railway reached the town in 1862, Hunstanton's position as a leading east coast resort was assured.
Attractions
Apart from seaside entertainments, the town today boasts a range of other attractions, including the arts festival, family entertainment at the Princess Theatre, the kite festival, and the UK's largest tennis tournament. Outdoor activities include walking along the coastal path and water sports especially sailing, kitesurfing, windsurfing and jet-skiing.

And there's a unique experience in store for the traveller to Hunstanton. For it is the only coastal town in East Anglia where you can see a sunset over the sea - you might need to look at a map to see why!