During the holiday period, the bustling harbour is the focus of activity in Wells-next-the-Sea. The harbour is lined with fishing boats and often thronged with children fishing for crabs, and the large granary building with its overhanging gantry is an impressive reminder of Wells' past role as an important port. The town used to handle the import of timber and coal, and the export of grain, and was a centre for ship-building with its associated trades, such as rope and sail making.
Wells Beach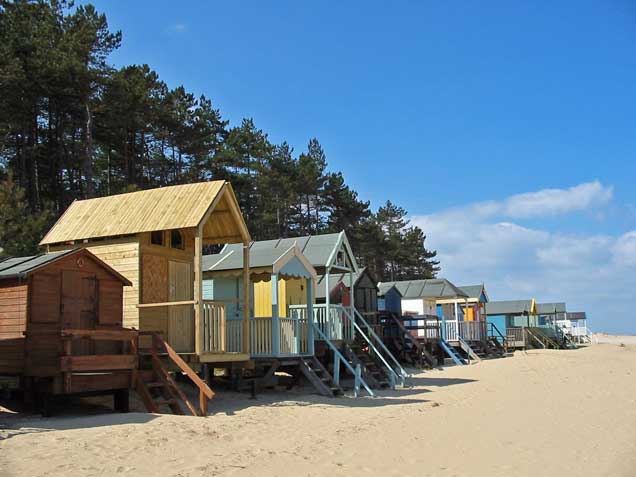 Wells has a fine sandy beach about a mile from the town centre, and you can reach it by walking from the harbour, driving to the car park, or catching the miniature train in the summer. The beach is lined with colourful beach huts, dunes and pinewoods.
For shopping, Staithe Street provides an array of interesting independent shops selling clothes and food, as well as gifts and sweets. There is also a good selection of cafes and tearooms. At the top of Staithe Street you will find Buttlands, a Georgian Square with pubs serving good food and real ales. For traditional seaside fare try one of the excellent fish and chip shops opposite the harbour.
Wells Attractions
Attractions near the town include the Wells and Walsingham Light Railway, which will take you to the fascinating old village of Walsingham, a pilgrimage centre since the middle ages. Also nearby is Holkham Park with its stately hall packed with art treasures, a museum and lakes. It is also pleasant to walk along the Norfolk Coast Path from the harbour, through the boatyard and marshes to Stiffkey, where you will find a traditional pub, the Stiffkey Red Lion, selling real ales from wooden casks behind the bar. For other excursions to pretty nearby villages, such as Blakeney, Cley and Holkham, why not leave the car behind and use the frequent and convenient Coasthopper bus service? For buses to Hunstanton, King's Lynn and Fakenham, use the Coastliner bus service.